This is my 10,00th post. I'm crossing over to the Valhalla of The Magic Café. Ha! I have not been posting for awhile (although I have shared PMs with several fine folks), wanting to post something significant for this milestone (sentimental fool that I am). It is also my Mom's 83rd birthday today! (Happy Birthday, Mom!)
One of our esteemed colleagues from right here in The Workshop suggested that I post another of the recipes that seem to enjoy a following here.
I had promised to eventually post what follows. The process and a couple photos were put together last year. I think now that the weather is beginning to turn for the better for many of us, it is time.
So, gather up your stuff and have a go at...
BBQ Smoked Pulled Pork
The Smoker
You will of course, require a suitable smoker. You must be able to smoke the meat in a covered environment, using indirect heat. I prefer a charcoal/hardwood smoker. I have about the cheapest one you can buy, a Brinkmann Smoke N Grill. I bought mine at Walmart for $47.00.
This has a charcoal pan in the bottom, a water pan above that, and two grill grates above that, about 10"-12" apart (an upper and a lower).
The Fuel
You will also need good quality charcoal and Hickory chunks. I use the big chunks that are about tennis ball size. You can use the smaller chips, but they burn up really fast and you'll be driving yourself crazy reloading the fire. (Those who swear by Mesquite should save it for beef. Use Hickory for pork.)
The Meat
Begin with good quality Boston butts or shoulder roasts (picnics). Average 8-10 pounds each, bone-in. You can also buy boneless butts. They should have good marbling. Don't use boneless pork loins or tenderloins, as they don't have enough fat to produce a nice moist result. Save those fine cuts of meat for other uses.
Some people like to brine the meat, or inject it with marinade. I do not.
I also smoked a slab of Baby Back Ribs while I had the smoker going.
Dry Rub
I do use my own dry rub mixture.
1/4 cup Coarse Sea Salt
1/4 cup Paprika
1/4 cup Brown Sugar
2 TBS Ground Black Pepper
1 tsp Garlic Powder
1 tsp Onion Powder
1 tsp Dry Mustard
1 tsp Crushed Red Pepper (pepper flakes)
1/2 tsp Ground Red Pepper (Cayenne)
1 tsp Thyme
This recipe is enough for a couple of roasts as described above. It will also have multiple uses through this process. Reserve about 1/4 cup for use later.
For now, rub all sides of the roast(s) liberally with the rub mixture. Don't be afraid to lay it on thick. Cover and refrigerate for several hours or overnight.
This photo shows the rub applied.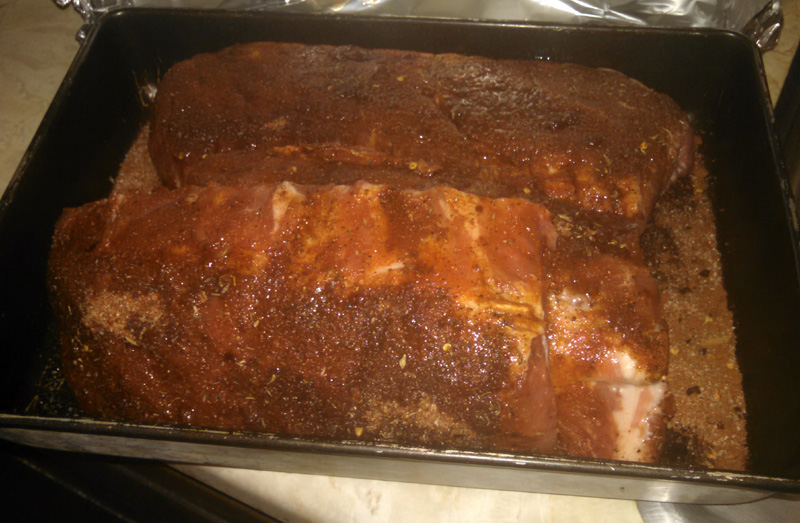 Smoking the Meat
Remove the meat from refrigerator and let stand at room temperature (covered) about an hour before you begin the smoking process.
About a half hour before you begin the smoking process, soak several large chunks of the Hickory in a bucket of water.
Time to fire up the smoker!
Follow the manufacturer recommendations for your particular smoker. I use a chimney to light the charcoal. If you elect to use charcoal lighter fuel, be sure to let it burn off good to avoid imparting the flavor of fuel in the meat.
After about 20 minutes, the coals should have a nice ash on them. Spread them evenly in your fire pan and add more charcoal on top to fill the pan. Place several of the soaked Hickory chunks on top and finish setting up the grill grates.
If your smoker has a water pan, be sure to fill it in accordance with the manufacturer's directions. Some people use marinades, etc. in the water pan. I prefer just plain water, as I feel the flavor will come from the rub, from smoking, and from the mop sauce and BBQ sauce later. The purpose of the water pan is to provide moist heat. Using plain water also make the clean up a bit easier.
Arrange the meat so that there are spaces between to insure good smoke circulation. Close or cover the smoker, and leave it alone for at least two hours.
Mop Sauce
1/2 cup Vegetable Oil
1/2 cup Vinegar
1/2 cup water
2 TBS of dry rub (see dry rub recipe above)
1 TBS Worcestershire
1 TBS Soy Sauce
You can buy a BBQ mop or as I do, take a length of cheese cloth, staple one end to a length of wood dowel, wrap the rest around that end, and tie securely with a piece of butcher twine or cotton string. It works great!
You will mop the meat after 2 hours of smoking, and every two hours after that.
Only check the meat at these intervals. You lose heat every time you open the cover.
This photo shows the meat after 2 hours of smoking.
When you do check, be prepared to do these other tasks, too...
1) Mop and turn the meat
2) Add more charcoal and/or hardwood chunks
3) Fill the water pan
Finish Rendering
According to the meat you are smoking and according to the time you should smoke it (this info will be available online), the last two hours will be your time to render the meat. This loosens the fibers and provides a tender product.
During the check of all things at that point, carefully remove the meat and wrap tightly in heavy aluminum foil before returning it to the smoker.
It is best to check the internal temperature with a meat thermometer, but I often don't, knowing if I keep the temperature of the smoker at the optimal level and cook the meat at least for the suggested time, it will be fine. Experience teaches a lot.
Once Done
Remove the meat and leave wrapped. Let it stand for about 20-30 minutes. This allows the juices to flow back into the meat. If you try to cut it before then, the juices will run out and the meat will be drier.
For classic pulled pork, shred the meat with two forks. Throw away any bone or excessively large chunks of fat.
BBQ Sauce
BBQ cooks will say that the secret is in the sauce! Everyone has a favorite. I prefer a sauce that is both sweet and tangy, made with vinegar, ketchup, and brown sugar as the main ingredients. There is no reason to list specific amounts, as you can play with this yourself to your own liking. Too sweet? Add more vinegar. Too tart? Add more sugar. Balance the sauce with the ketchup. Use a Tablespoon or two of the dry rub mix to give the sauce some heat and complexity.
Additionally, you may want to add some Soy Sauce, Worcestershire Sauce, minced onion or garlic, hot sauce, or even a little strong coffee. I do not use smoke flavorings, as the meat has plenty and those bottled liquid smoke products taste terrible. Play until you like it and when you do, write down what you did!
Some of you might opt for store-bought, bottled sauce, but considering the work you've already done, why would you stoop to this?? I mean, really...
Eating
This is what you've worked so hard for!
Some people like a pile of shredded meat topped with BBQ sauce. Add some good side dishes and you certainly have a rockin' feast! Me? I like pulled pork sandwiches. Use a good quality bun, pile on the pork, ladle on some sauce and top with a nice heap of Cole Slaw and a couple Dill Pickles or Sweet Hot Pickles!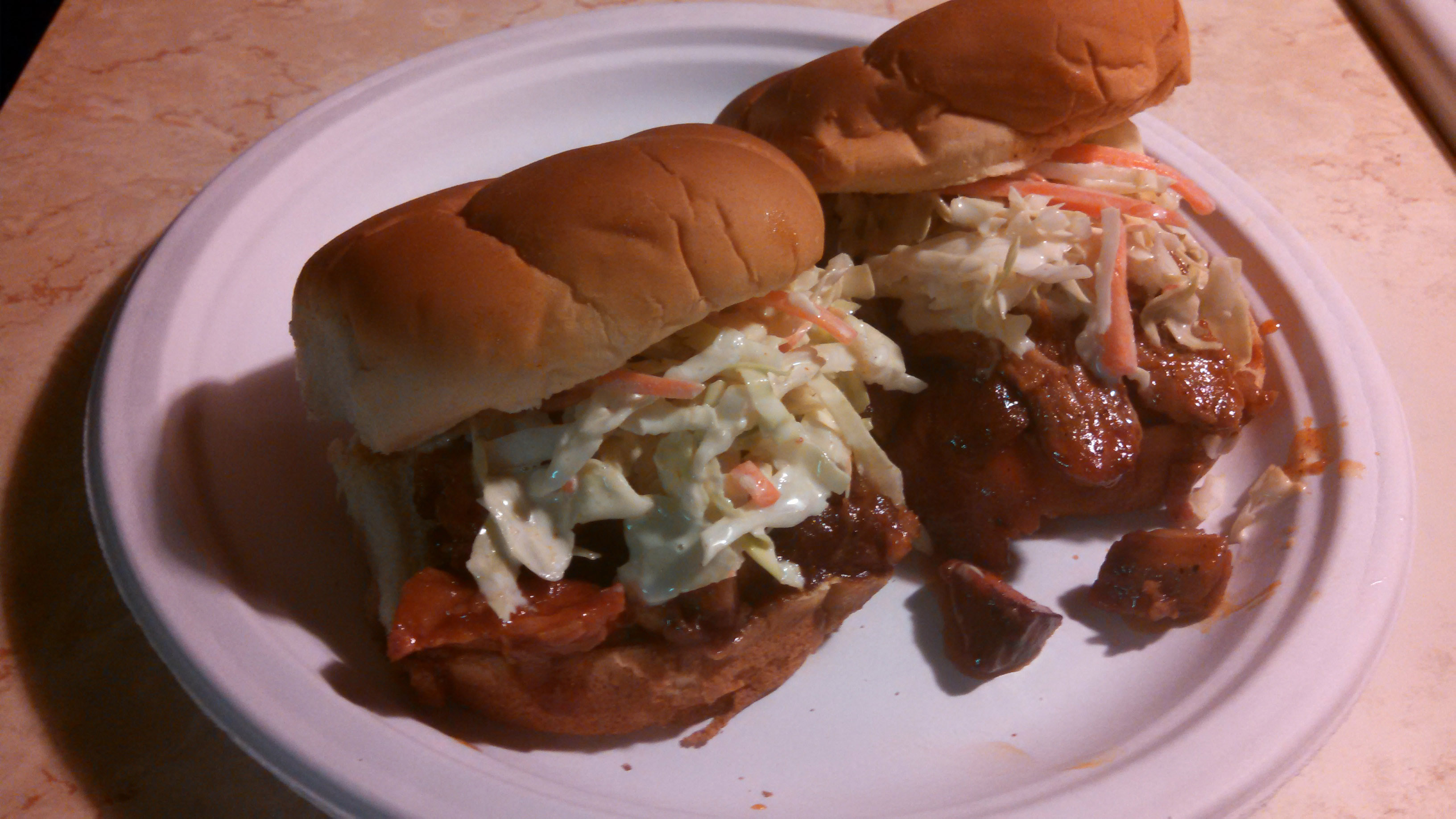 Of course, refrigerate any leftovers. When reheating, I prefer to heat in a small saucepan with some of the sauce.
Enjoy, my friends!