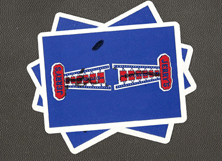 Starting from the moment you read this Café Post, all the way through December 31st, 2011 (11:59pm PST), every order made on
LeeAsher.com
(including PDFs) will receive a single, signed, authentic Jerry's Nugget Playing Card as a gift (one card per purchase). That's right, EACH PURCHASE, no matter what or how much you buy, receives one pre-signed JNugg from me.
Your card's color and value will be chosen at random by LeeAsher.com staff.
Give this collector's card to a friend as a holiday gift, use it as a book mark in your working copy of Erdnase, or simply add this piece of Las Vegas Casino history to your
playing card collection! It's yours. Happy Holidays!
Go now and purchase anything from my sto......ng Card.
Enjoy your holidays!
Cheers,
Lee Asher
.
.
.