The greatest show on Earth returns...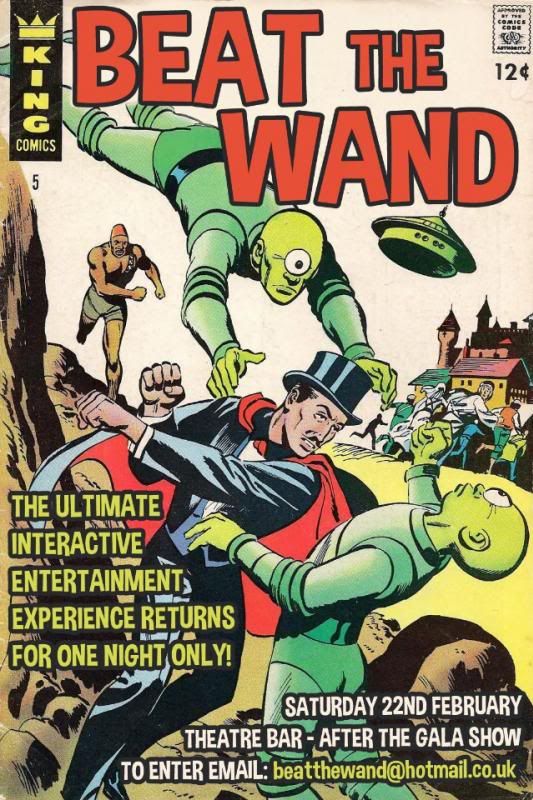 [/URL]
Beat the Wand is back! Last year was our best show yet with George Warhorse and his Monkey of Truth taking a well deserved first place.
For any newbies to Blackpool Magician's Convention let me fill you in...
Beat the Wand is an interactive magical variety talent show. You have 3 - 5 minutes to blow the audience away with your act.
Non-magical acts have proved to be more popular with the audience so we would love to continue the variety aspect this year.
Juggling, Escapology, Contortian, Geek Magic, Bizzare, Occult, Mind Reading, Ventriloquism, Mouth Juggling, World record attempts...
Of course magic is welcome in the show but remember the audience is 99.9% magicians so whatever the act, it will need a novel twist or presentation to capture the audiences interest. There were some fantastic spoof magic acts last year which also went down very well.
If you are interested in performing here are the rules...
* Your act must last a minimum of three and a maximum of five minutes.
* Five giant wands will be thrown into the audience. After an act has performed for one minute the "voting" begins. Once a wand holder has seen enough of your act they will place their wand in the air. If five wands are in the air the act will stop.
* If an act reaches three minutes they are safe and will be allowed to finish their act.
* Of all the acts who reached the three minute mark and "beat the wand" the audience will decide the winner by Clap-o-meter.
* Performers will be supplied with a hand mic, a table and two chairs. There are no cameras or screens in the bar so close-up/table magic will not be suitable.
If you are interested, or know someone who would love to be involved or need any further info then please contact:
beatthewand@hotmail.co.uk