The Can-Am Conjuring Lecture Series proudly presents
Danny Orleans & Jan Rose in November, 2014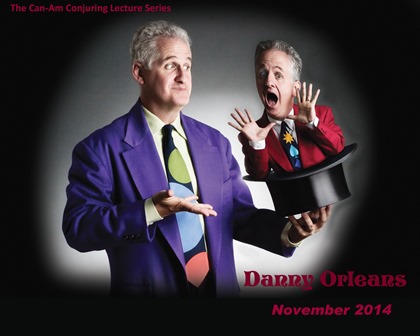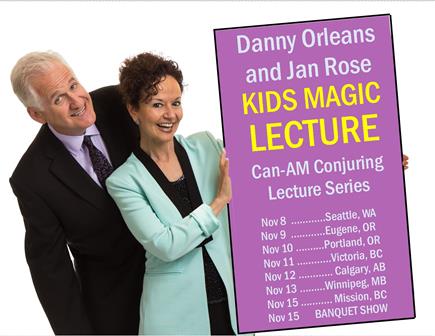 ...
Seattle Lecture:
Saturday, November 8th, at 2:00 PM
Shawn O'Donnell's (lower level)
122 128th St. SE
Everett, WA
NWRF Members: $25
Ring of Smoke $10
General Admission: $30
November 9th, 2014 – Eugene, OR
3:30 PM
Lane County Juvenile Justice Center
2727 Martin Luther King, Jr. Blvd
November 10th, 2014 – Vancouver, WA
7:00 PM
Dave's Killer Magic Shop
1707 Main Street
November 11th, 2014 - Victoria, BC
7:00 PM
Harbour Towers Hotel & Suites
345 Quebec St
November 12th, 2014 - Calgary, Alberta
7:00 PM
Communitywise Resource Centre
223 12th Ave SW
November 13th, 2014 - Winnipeg, Manitoba
7:00 PM
November 15th, 2014 - Mission, BC
Rober Baxt Lecture at 1:30PM
Danny Orleans & Jan Rose Lecture at 3:30PM
$25 each, or $40 for both lectures ($69 includes dinner and a show!)
Abbotsford Curling Club
2555 McMillan Road
Danny Orleans and Jan Rose will be bringing their highly-acclaimed lecture, "The Art of Presenting Magic to Children," to The Can-Am Conjuring Lecture Series in November, 2014.
They have performed over 4000 shows for over one-million children, parents and teachers at schools, theaters, museums and private events. Normally, that would be qualification enough to be experts in children's magic, but they have many more.
- Danny graduated Northwestern University's School of Education
- He taught preschool through 8th grade in public and private schools
- He wrote the column "Pediatrix" for 3 years in Genii Magazine
- He was awarded1st place for his article on children's magic in The Linking Ring, "Surviving a Lion Safari."
- With his wife, Jan Rose, he toured a children's theater magic show to major theaters, museums and children's theater festivals throughout North America and the Caribbean islands
- He consulted for Scholastic Publishing on their "Ultimate Magic Club," and wrote 11 books teaching the art of performing magic to children. Also wrote Magic Scratchers for Chronicle Publishing.
- He consulted for the Chicago History Museum's recent exhibition MAGIC.
Their lecture on Children's Magic is based on the new 3 DVD set, "The Art of Presenting Magic to Children." They shows clips of real performing situations from the DVD and use them as a springboard for discussion.
Geared toward the children's entertainer, but the strategies discussed can be adapted for audiences of all ages. Danny explains "Behaviorism" and the verbal tricks he uses to modify youngsters' behavior. Danny and Jan will teach you:
- 3 ways to get an audience quiet without asking them to be quiet.
- Verbal tricks to get kids to be a good audience without demands, scolding or a whip.
- How to use techniques of positive reinforcement as an audience management strategy.
- How to unify your audience.
- His pre-show silent warm-up.
- A master trick to get onstage helpers to stay put on stage
- A technique to get two laughs from an audience from one gag.
- Danny's Colossal Coloring Book Routine, big enough to play for an audience of 2000.
- Danny's five goals that he tries to achieve for every show.
If you do shows for children, this is a lecture that will help you be a better performer. Through the use of audience management strategies, you can easily improve the impact on your audiences when you perform magic for children and their families.