2015 AMA award nominee for Lecturer of the Year, and Stage Performer of the Year,
Shoot Ogawa joins the Can-Am Conjuring Lecture Series in April, 2015!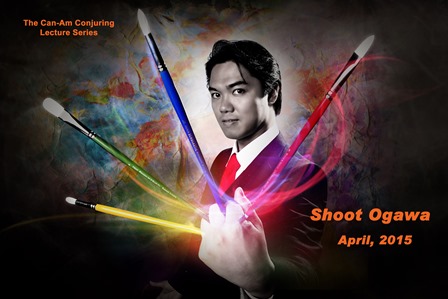 Shoot Ogawa is an active member in the magic community, and one of the top modern magicians from Japan. Originally from Tokyo, he began studying magic at the age of 10 under Masahiro Yanagida, one of Japan's most popular and respected entertainers.
At the age of 17 he entered the Mid-West Magic Jubilee competition in the US, stunning the magic community by winning 1st Place in Stage Performance seemingly from nowhere. This was the first of his many 1st Place awards, making a name for himself with his unheralded skills in close up as well as heralding a renaissance in the art of Japanese Magic. Shoot also began performing regularly on popular variety shows on Japanese TV, becoming a well known entertainer and developing his stage presence.
Fulfilling a lifelong dream to bring Japanese Style of Magic mainstream, Shoot moved to Hollywood in 2002, where he now performs regularly at the world famous Magic Castle. Shoot has won four Magician of the Year awards from the Academy of Magical Arts (twice as Close-Up Magician of the Year and twice as Parlour Magician of the Year) and the "MVP Award" from the FFFF convention (Fechter's Finger Flicking Frolic) in 2007. Japanese American magazine Lighthouse named Shoot as one of the three best Japanese entertainers in America.
Since then, Shoot has worked on improving his English and developing more of his "don't blink or you'll miss it" effects he is famous for, touring throughout Asia, Europe, and the United States. He loves introducing his effects and elegant style of magic, winning over today's hard-to-please audiences into fans of magic. Shoot was a headline performer in 2009 at FISM Beijing as well as 2012 in FISM Blackpool, England and has performed in more than 40 countries.
...
April 20th, 2015 – Edmonton, AB
7:00 PM
Best Western Cedar Park Inn
5116 Gateway Boulevard NW
Edmonton, AB
April 21st, 2015 - Victoria, BC
7:00 PM
Harbor Towers Hotel
345 Quebec St.
Victoria, BC
April 22nd, 2015 - Calgary, Alberta
7:00 PM
Communitywise Resource Centre
223 12th Ave SW
April 23rd, 2015 - Winnipeg, Manitoba
7:00 PM
April 24th, 2015 - Mission, BC
7:00 PM
7969 Tuckwell Terrace
Mission, BC
April 25th, 2015 - Seattle, WA
2:00 PM
Shawn O'Donnell's (lower level)
122 128th St. SE
Everett, WA
April 26th, 2015 – Eugene, OR
3:30 PM
Lane County Juvenile Justice Center
2727 Martin Luther King, Jr. Blvd
April 27th, 2015 – Vancouver, WA (Portland area)
7:00 PM
Dave's Killer Magic Shop
1707 Main Street
Vancouver, WA