I have built two of them. I built them not from instructions or plans, but rather from measuring, testing, and building mockups.
The cost was much less than buying one. If you are a skilled craftsman you can do a great job. However, established builders are established for good reason: they know what works and what doesn't, what makes things strong, proper finishes, etc. Additionally, the resale value of a home-made prop, regardless of how well it is made, seldom comes close to that of a "name" builder.
My second blammo was built by teenagers, under my guidance, back when I was still teaching. It's a relatively simple prop. We started with a strong base, essentially a very shallow square box. We determined a good way to make and attach legs. Since we did not have access to metal working tools, we made wooden angle legs, typical of Paul Osborne props. The legs on this prop take a lots of stress so make them strong (they not only need to support the weight of the prop and a person, but also the related stresses of moving, rotating, and the sides banging down). Attach them securely, use good angle bracing and consider the downward forces of the weight.
The release of the "hiding panels" will be important. I used strong spring hinges on both the top and bottom. You don't want to rely on just gravity or the choreographed movement of the performer to trigger these, although those are important. They need to operate quickly, so pay attention to that.
You can build one witha good saw and a drill, and other hand tools. And lots of time. Obviously, the better equipped your shop is the easier a build will be, but I have built nice illusions with hand tools. Good clamps are priceless to me in building. They will hold things while gluing, drilling, and dry-fitting. TAKE YOUR TIME. I would also suggest using aluminum to trim and for edging around the lid. It's easy to work with and you can buy metal-cutting blades for your hand tools.
Buy the best hardware you can. It will be expensive, but hinges, bolts, wheels and such are important. Good casters will make the props roll easier and will last; don't get them too small in an effort to save a few dollars (I learned this the hard way).
Take your time finishing. Sand, sand and sand again. Prime the wood, lightly sand and look for imperfections. I found that using a satin paint is best if you spray, since it has less glare. My favorite way to apply finishes to illusions ended up being the roller. Rolled paint is cheaper, you don't need a paint booth, it's easy, fewer drips and sags than spraying, you can use water-based paints, a variety of roller naps allow control over the finish ... there are so many advantages.
Good luck, and post a pic when it's done.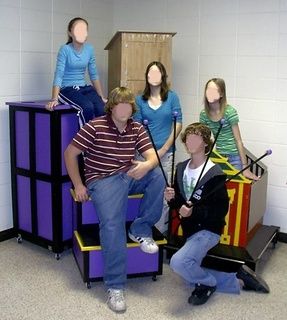 Here are some of my students with a few props they built. You can see a Cane Cabinet, a Stack of Boxes, and a Temple of Benares. Teenagers make great assistants; they are small and limber and fast. The girl on the left was unbelievable moving into the stairs, and the girl in the middle learned a perfect back palm in a day!