Mike Powers Lecture Tour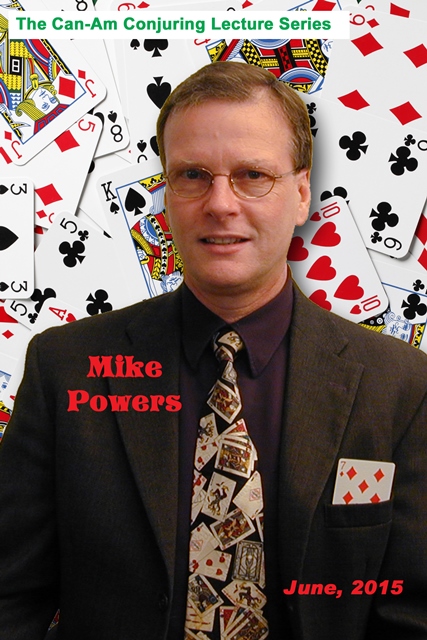 Mike Powers has been creating and performing magic for over 30 years. He is the author of three books on sleight of hand magic: Powerful Magic (1983), Top Secret Stuff (1990) and Power Plays (2006). Power Plays was voted book of the year on the Magic Café, and was runner up on Magic Industry Awards. His creations have appeared in all the major magazines as well as in Paul Harris' "A Close Up Kinda Guy."
Mike has performed for many years as a close-up magician, with much experience in restaurant work. He has also been an invited performer at the famous Magic Castle in Hollywood, and has lectured and worked at magic conventions and clubs all over the U.S., Canada and around the world.
Mike currently writes the "Card Corner" column in The Linking Ring, and was featured in the April, 2015 issue, both on the cover and inside, where nine of his original creations are presented in a one-man parade.
Mike's new lecture involves mostly close-up magic with cards, coins, rubber bands, rings and other ordinary objects, although there is an item or two suitable for platform and stage. Most of the material is accessible to the average magician but there are a couple of "move monkey" items as well.
...
June 1st, 2015 - Edmonton, AB
7:00 PM
Best Western Cedar Park Inn
5116 Gateway Boulevard NW
Edmonton, AB
June 2nd, 2015 - Victoria, BC
7:00 PM
Harbor Towers Hotel
345 Quebec St.
Victoria, BC
June 3rd, 2015 - Calgary, Alberta
7:00 PM
Communitywise Resource Centre
223 12th Ave SW
June 4th, 2015 - Winnipeg, Manitoba
7:00 PM
Manitoba Deaf Centre / Forest Nickerson Theatre
285 Pembina Hwy, Winnipeg, MB R3L 2E1
June 5th, 2015 - Mission, BC
7:00 PM
7969 Tuckwell Terrace
Mission, BC
June 6th, 2015 - Seattle, WA
2:00 PM
Shawn O'Donnell's (lower level)
122 128th St. SE
Everett, WA
June 7th, 2015 - Eugene, OR
3:30 PM
Lane County Juvenile Justice Center
2727 Martin Luther King, Jr. Blvd
June 8th, 2015 - Vancouver, WA (Portland area)
7:00 PM
Dave's Killer Magic Shop
1707 Main Street
Vancouver, WA